A. Visualizations of many-sheeted space-time concept
Figure 1: The presence of matter makes space-time curved and spoils translational and rotational symmetries: this means the loss of basic conservation laws.
Figure 2: a) Future lightcone M4+ of Minkowski space. b) CP2 is obtained from C3 by identifying the points related by complex scaling: z= lz .
Figure 3: An illustration of wormhole contacts between parallel space-time sheets having elementary particle size and of join along boundaries bonds which can have macroscopic length.
Figure 4: Two-dimensional illustration of the many-sheeted space-time. Space-time sheets are connected to each other by wormhole contacts.
Figure 5: Schematic representation of the decomposition of the space-time surface to p-adic and real regions.
Figure 6: Generalized imbedding space is union of all p-adic imbedding spaces Hp and real imbedding space H intersecting along rational points common to all (Q denotes rationals, R for reals, and Rp for p-adic numbers). In figure some of the immedding spaces Hp are illustrated as half-planes.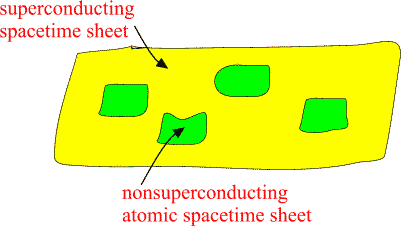 Figure 7: Atomic space-time sheets are at high temperature and non-superconducting as standard physics predicts but larger space-time sheets can have very low temperature and superconduct.
Figure 8: a) 2-dimensional space-time illustration of topological light ray (massless extremal, ME). Field pattern propagates with light velocity preserving its shape. b) MEs serve as field bridges between space-time sheets and make possible both classical and quantum communications.
Figure 9: The classical non-determinism of Kaehler action forces to generalize the notion of 3-surface by allowing sequences of space-like 3-surfaces with time-like separations. These sequences have interpretation as linguistic expressions providing a representation for quantum jump sequence defining the contents of consciousness of self.